Special edition of sacred herbal Pra Somdej and Pra Nang Paya amulets containing pratat Buddha relics, lek lai fragments, and ancient chedi powders. The edition is made and blessed by Kroo Ba Beng of Wat Tanode Luang.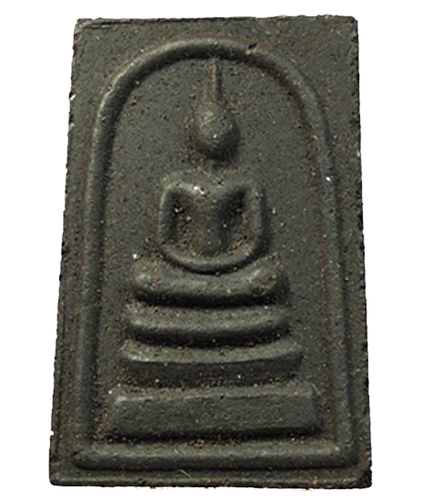 The special Pra Somdej amulets have 'pratat' (Buddha relics), and lek lai fragments in the 108 sacred herbal powder muan sarn. The presence of Buddha relics and lek lai fragments lend a vast array of sacred powers to this amulet that would need extensive listing to explain the vast aray of blessings and magical effects present within the sacred muan sarn.
The series included Pra Somdej amulets in three differing substances, all of which have differing but equally sacred value in their sacred ingredients.

1. Somdej Nuea Hlang Chedi Pasom Rae Lek Lai (made from powders of an ancient chedi stupa, and lek lai fragments with herbal powders);

2. Somdej Wan 108 Pasom Pratat + Rae Lek Lai (made from 108 herbal powders with pieces of Buddha relics and lek lai fragments);


3.

Somdej Paya Ngiw Dam Glai Pen Hin Lan Pi

(hand carved from millions of years old petrified holy wood and mastodon tusk).
The black bark Ngiw Dam tree is a holy tree that is considered 100,000 times more powerful than the white bark version, for the fact that only one in a hundred thousand trees are black, the rest being white.
The edition was made to fund the construction of a chedi stupa to insert Buddha relics into, as part of the celebrations for His Majesty the King's 85th birthday. The temple making this edition is the Samnak Songk ('forest sangha station') Phu Taep Thawara Nimit in Kara Buri, Nakorn Rachasima.
In addition to the Pra Somdej, some Pra Nang Paya Buddha images were also made for release. This was done to cater for ladies and children as well as to add this model to the National archive of Pra Nang Paya sacred amulets.
Pra Nang Paya Nuea Wan 108 Pasom Pratat + Rae Lek Lai (made from 108 herbal powders with pieces of Buddha relics and lek lai fragments).

The rear face of both the Pra Somdej and the Pra Nang Paya amulet have the official temple stamp embossed on it. Also on the rear face, there is the root mantra of the Buddhist arahant Pra Sivali, which induces great blessings of wealth and mercy.
The amulets come with the original box from the temple. But, of course, encasement options are available, too. You can get 10% off if you take solid gold custom casing with one of these items. 
View the amulets of this special edition of sacred herbal Pra Somdej and Pra Nang Paya amulets here: 
Pra Somdej Pong Wan 108 Rae Lek Lai – 108 Sacred Herbs, Lek Lai + Buddha Relics – Samnak Songk Phu Taep Thawara Nimit
Pra Nang Paya Pong Wan 108 Rae Lek Lai – 108 Sacred Herbs, Lek Lai + Buddha Relics – Samnak Songk Phu Taep Thawara Nimit
Pra Somdej Nuea Hlang Chedi Pasom Rae Lek Lai – Ancient Chedi Stupa powders, and Lek Lai Fragments