Top of the range rian amulet of the Sompochana edition Luang Por Tuad monk coins. The ongk kroo top model in this series features a solid silver coin with a 24 karat solid gold image of Luang Por Tuad. The other models were made in various sacred metals, like solid silver, sacred copper, brass and alpaca silver, nava loha, and nava loha with a solid silver image of Luang Por Tuad.
The coins bear the image and the invocation of Pra Luang Por Tuad of Wat Chang Hai and Wat Pako. The metal coin amulets were released in 2556 BE at the temple of the world's tallest standing Luang Por Tuad statue, Wat Mae Takrai in Chiang Mai Province. The amulets from this edition are, of course, an essential acquisition for any devotee of Luang Por Tuad, and indeed, for any serious collector of Luang Por Tuad amulets. But, of course, those who seek protection and auspicious blessings of lucky fortunes and wealthy professions, may benefit from these sacred amulets as well.
The front face features an image of Luang Por Tuad standing with the a typical tudong forest wandering umbrella, called a 'glod'. The image is a replication of that of the world's famous statue at Wat Mae Takrai.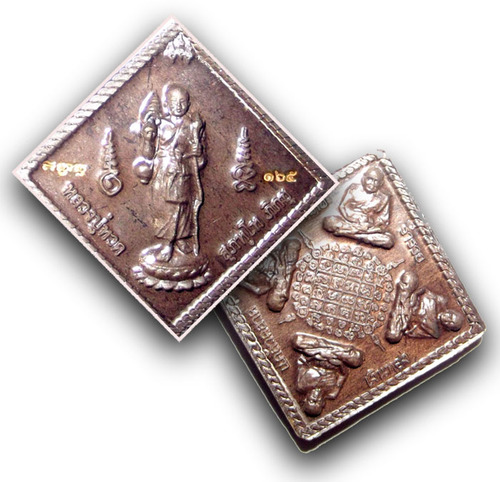 The amulet is very apt for ladies and children, as well as men due to its small size. It has a remarkably powerful aura that makes it a completely unisex amulet for both men, women and children to wear. Furthermore, it contains purely auspicious Buddha magic with anti black magic power. This, of course, makes the amulet especially useful for one's children, as a protection against the asura, yaksa, djinn, demons and ghostly beings, who love to victimize children by entering their bodies and becoming viruses which will make them ill.
The rear face of amulet has four blessings written around the edges, namely: (1) plord pay (safe and sound); (2) klaew klaad (invincible to deadly accidents); (3) ram ruay (rich as a millionaire); and (4) ngern tong (gold and silver). Luang Phu Tuad sits around the four cardinal points of his yantra. This yantra contains the Hua Jai Kata Potisat of Luang Phu Tuad, which goes as follows: Na Mo Potisadto Aakandtimaaya Idti Pakawaa.
The amulet comes in the original box from the temple.
 View all amulets in this edition here: Luang Por Tuad Sompochana Edition 2556 BE – Wat Mae Takrai