Pra Upakut/Pra Bua Khem Buddha image made from 'nuea tong rakang' (temple bell brass), filled with sacred powders and empowered by Luang Por Pian of Wat Grern Gathin in Lopburi.
This loi ongk statuette was released in the Sao Ha Maha Mongkol 2553 BE edition of Wat Grern Gathin. This edition of amulets was blessed on an auspicious fifth day of the fifth lunar month, with a series of Pra Sethee Navagote amulets spearheading the edition.
The Buddhist saint Pra Upakut is also known as Pra Bua Khem. This Buddhist amulet offers powerful protection against black magic, and acts as a defender against Mara demons. Pra Upakut's supernatural powers can also be used to bring in wealth.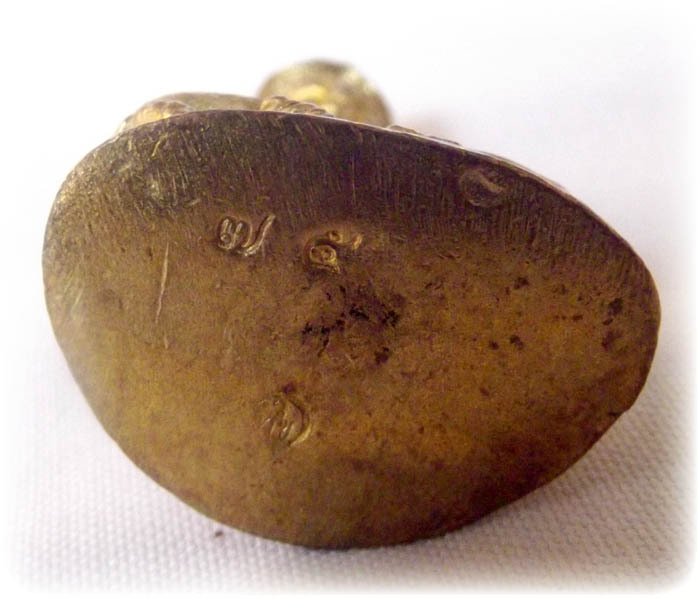 The series code number and edition authenticity stamp are embossed on the base of the loi ongk statuette.
Bucha method
Light fragrant incense, and offer fragrant flowers and perfumed water. Then chant Maha Namasakara ('Namo Tassa') and pray in your heart, that wherever the fragrance will flow in the air and touch, that there will be:
1. At home: happiness, calm, peace, etc. (i.e. all what you wish for);
2. In the place of business: increasing wealth.
Kata Pra Upakut
Mahaa Upakuto Mahaa Laapo Putto Laapang Sappe Chanaa Pahoo Chanaa Raachaa Buriso Itheeyomaa  Namo Joeraa Metaa Jidtang Ehi Jidtang Jidtang Biyang Mama Satewagang  Manussaanang Sappalaapang Pawandtume EhiJidti Jidtang Pantanang Upakudta Ja Mahaa tero Puttasaawaga Anupaawena Maara Wichaya Nirapaya  Dtechabunyadta  Ja Tewadtaanambi  Manussaaanambi Ehi Jidtang Biyang Ma Ma Imangkaaya Pantanang Atithaami Ba Ayyisudtang Ubajsa-i.
Who was Pra Upakut? How to worship Upakut Buddha
The amulet comes with the original box from the temple of Wat Grern Gathin.
View this amulet in our store here: Pra Upakut Sao Ha Maha Mongkol Statuette made from Temple Bell Brass – Luang Por Pian